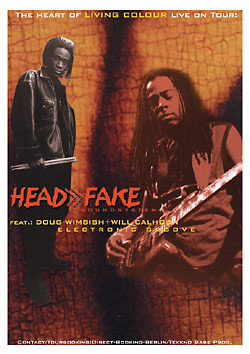 HEAD>>FAKE is back! Doug Wimbish and Will Calhoun the explosive rhythm section that drives the band Living Colour are getting together again , to delight us with their mastery of technology and musicianship.
Their signature song "Cycles" a mid tempo trance inducing groove with psychotic bass romping and bombastic drumming is like a canvas of the musical personalities that form the band.
It was at a Headfake gig at New York's legendary CBGB's that Living Colour ....reunited in December '99....
Will Calhoun, the widely acclaimed drummer from the Bronx, NY, graduated from the Berkelee School of music in Boston, where he received a degree in Music Production and engineering. He was also the recipient of the prestigious Buddy Rich Jazz Masters Award for outstanding performance by a drummer.
He received Best New Drummer of 1988 by Modern Drummer Magazine's readers Poll.
Number One progressive Drummer by Modern drummer Magazine's Readers Poll Three times (1989, 1991 & 1992)
Best Drummer of 1990 by Rolling Stones Magazine critics poll. In addition to Living Colour , will has recorded and /or toured with artists as diverse as B.B. King, Mick Jagger, Jaco Pastorious, Harry Belafonte, Dr. John, Carly Simon, Herb Alpert, rappers Run-DMC and Public Enemy and Mos Def.
Will has also released a solo jazz CD: the Will Calhoun Quintet :Live at the Blue Note, an adventurous journey through Will's approach to acoustic Jazz, World and Ambient music. The line up features, amongst others, Bobby Watson-sax and John Benitez -bass ....
Doug Wimbish, has had an amazing career, from his early days with legendary rap label Sugarhill Records to pioneering work with Tackhead to his continuing work with Living Colour, he's truly best described as a journeyman.
As the 80's wore on, Sugarhill found itself overtaken by hip-hop innovations outside its stable of artists, and its house band had already formed a productive relationship with British dub reggae experimentalist Adrian Sherwood. Wimbish began working with Sherwood on a variety of projects.
In the 90's of Living Coulour, Wimbish worked on albums with Madonna, Annie Lennox, Mick Jagger, the Rolling Stones, Ron Wood , Seal and many others. And most recently with Mos Def, including HBO's Reverb show.
In 1999, Sherwood 's On-U Sound label issued Wimbish's first solo album, Trippy Notes for Bass.
After 20 years as an innovator, collaborator and explorer of music and bass , Doug continues to ride the cutting edge .

For additional information contact:
AVAILABLE ENTERTAINMENT
6683 Sunset Blvd.
Suite 1
Hollywood, CA 90028
tel (323) 463 4800
fax (323) 463 4222
info@availableentertainment.com